Thirty years ago I was still in the closet at age 25. But I knew I was gay, though this was the last year--as a grad student in English at Marshall University--that I dated girls.
I was in the closet through almost all my twenties and getting more cock than a fundamentalist Christian boy should ever see.
In 1976, the Bicentennial year, my mother was active in Anita Bryant's anti-gay initiative in Dade County, the same year I came to terms with my sexuality--but it was 5-7 years before I was completely out ... to friends, parents, work, the works.
In the late seventies my tastes were guided by GQ and After Dark magazines. My idols were mostly models-- David White, Jeff Aquilon, Scott Webster, Michael Ives, Tom Tripodi, Bill Curry, Rick Edwards--in the first and last golden age of the GQ male model.  
Though I was loathe to associate myself with the G-word, I was relatively uninhibited in my tastes--letting people around me draw their own conclusions--and only outright denying the facts of my life to few people, most notably my parents.  

And back then the facts of my life were that I dated girls and fucked boys, usually when the both of us were sufficiently shit-faced to ensure memory loss ... or, at least, deniability.
My friend Luis used to tease me--with a touch of awed respect--about the fact that in Christian college (one of several I bounced in and out of) I stacked my Bible atop my After Dark magazines, and spent many an evening with straight boys stripped to our briefs wrestling to the point of hard-ons or lying naked under a blanket and jerking off.
Though the decade of the '70s saw the blossoming of gay rights, the popular media had little by way of enticements for me.  
It was, to be sure, the age of the "buddy film," but the potential for homoeroticism was consciously squashed with a spoonful of homophobia--usually in the form of slurs and bashings--and Hollywood usually resolved the suspect nature of the buddies' relationship in sex scenes with totally peripheral female characters who served no other purpose but to prove our heroes' heterosexuality.
Still, TV and movies offered the occasional chiseled physique and curly hair that rocked my boat back then ... and this evening's blog is a small tribute to seven men who did their part in shaping my fantasy life, even if, regrettably, they never play-raped me while wrasslin'.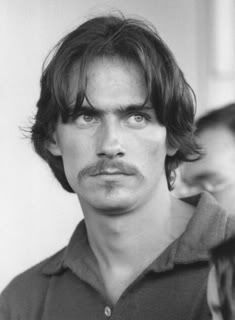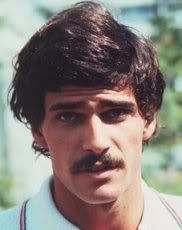 Bekim Fehmiu--I missed seeing him in 1970's The Adventurers but I thrived on the stills of this Bosnian actor; Patrick Wayne--the Duke's son was the most sexy and most wooden of filmland's Sinbads; James Taylor--in my dreams Sweet Baby James sang "You Got a Friend" to me; Mark Spitz--when first I realized that Jews were "my type"; Kevin Von Erich--his pro wrestling debut at age 19 was the beginning of the end of the fat, sweaty school of American wrestling; Richard Gere--still the sexiest part of the 1970s' sexiest guilty pleasure, Looking for Mr. Goodbar; Michael Beck--yep, Swan in The Warriors--"Can you dig it?"