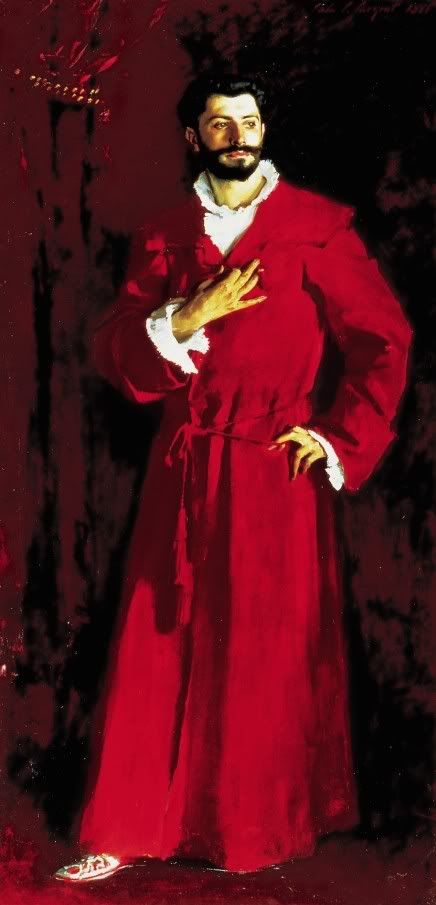 The subject of John Singer Sargent's portrait is Dr. Samuel-Jean Pozzi, early specialist in gynecology and otherwise a ladies' man of note.
No doubt his slender, elegant fingers cured many a bout of neurasthenia with his pelvic massage (a common cure of the day, for hysteria). Reportedly he had affairs with a number of his female patients, including renowned actresses Sarah Bernhardt and Gabrielle Rejane, Genevieve Bizet (widow of composer Georges Bizet and model for Proust's Duchesse de Guermantes), and Amelie Gautreau, who posed for another Sargent sizzler, the infamous Madame X.
His med school buddies nicknamed him the "Siren," and he was later dubbed "the love doctor."
He also improved Paris's water and sewage system during his term as senator and sided with Emile Zola in the infamous Dreyfus trial. Mainly he's remembered as the dark and handsome knockout in the red houserobe.
He's in his mid-30s in this painting, lambently captured in Sargent's gaze and looking better here than he does in the photographs I've seen of the man.
The painting first appeared in public less than 20 years ago, but I had seen lithographs of it in a highly prized art book about (I think) 30 years ago. I was immediately awestruck.
For those familiar with "my type," it's no surprise that the face is what excites me—a face is as good as a nude, depending on the face and depending on the nude.
The liquid dark eyes, both passionate and sensitive. The alabaster forehead. The Roman nose. The obsessively groomed hair and beard. The hint of sadistic disdain. The throat that shines almost as white as the ruffled collar.
There are, of course, those um fingers, too.
Given the lurid red of the painting, widely interpreted as Sargent's statement on Pozzi's reputation as a Latin lover, you might have thought the good doctor's life would have burned fierce but brief, but he died in his 70s, shortly after World War I.
But he did not, alas, die in peace. He was shot to death by a former (male) patient because Pozzi said he would be unable to cure the man's impotence, which the patient blamed on a leg amputation the doctor had performed earlier.
Sex, toujours le sex.