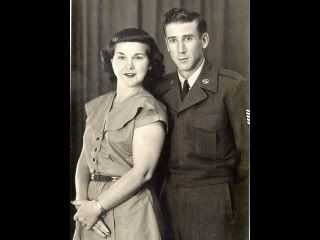 if he were still alive, my father would have turned 88 today.
he was a neat guy. nice looking as a young man. gifted at fixing all things mechanical. back in the '80s, when he was in his sixties, he could still hold himself up perfectly horizontal, holding on to a vertical beam with just his hands.
he died on september 12, 2001, shortly after lowering the american flag to half mast following 9-11.
my mother (pictured with him, above) had died in 1995, but his life his last six years seemed like the best he had ever experienced. when he died, he had a drawer full of natural virility pills + a new girlfriend in her 50s. i intended to have thanksgiving dinner with her + him, to meet her for the first time. as it turns out, we met only after his death.