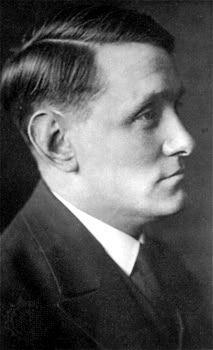 Willem Arondeus, 1894-1943
"Let it be known that homosexuals are not cowards": These are the last words of Dutch artist and author Willem Arondeus, executed for his actions in resisting the Nazi occupation of the Netherlands.
The son of theater costume designers, at age 17 Arondeus announced his homosexuality to his parents, who strongly opposed this path for their son. He ran away from home at age 18.
Through most of the 1930s, he lived with his young lover, Jan Tijssen, away from the city, in the Dutch countryside. His income was modest, and his paintings, poems, and fiction brought him little income and no fame.
Soon after the Nazis invaded the Netherlands in 1940, Arondeus and Tijssen broke up, and Arondeus, aware of the Nazi plan to ship Dutch-born Jews to Poland for extermination, founded an underground periodical to urge other Dutch artists to resist the Nazis and create subversive, anti-fascist artworks. He also personally forged false identity papers to assist Jews attempting to escape the country.
In 1943, he and others bombed the census bureau in Amsterdam, to prevent the Nazis from accessing the names and addresses of "registered" Jews. He was caught and executed by firing squad, along with 11 cohorts, a month before he would have turned 49.
The post-war Dutch government awarded him a posthumous medal of honor, but, despite his last wishes, the public was not informed of his homosexuality until 1990.