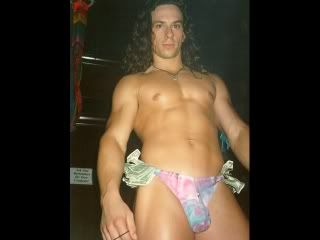 dancer with a nice endowment at oz new orleans, 1995
i haven't been to n.o. since march 2003, when i celebrated turning 50 there. in the years before, i visited the city more than 20 times, mainly when i lived in pensacola, fl, about 3 hours away by car.
1.
my friends barbara + elizabeth taking me to a trendy french quarter restaurant for my birthday (after casing the joint earlier that afternoon to handpick the cutest waiter to serve our table).
2.
french kissing + groping my (then) boyfriend vince at the bourbon bar.
3.
the red hot chili peppers concert in 1991 or '92.
4.
watching todd haynes's first feature film, poison, at the prytania theatre.
5.
a complete stranger buying me a bottle of champagne on my birthday, in 1989 or '90. it wasn't dom perignon, but then i wasn't brad pitt. still a generous + fondly remembered gesture.
6.
my first sazerac cocktail at the sazerac bar + grill in the fairmont hotel.
7.
on multiple occasions over the years, having a cheeseburger + fries long after midnight at the clover grill, home of the sassiest waitstaff on the planet.
no doubt my finest memories of n.o. have died along with the corresponding brain cells; such was the nature of the place.