yesterday, as part of the 12th annual north carolina gay and lesbian film festival in durham, i saw the modernized, americanized, + highly stylized 2006 film version of oscar wilde's novel the picture of dorian gray, starring 7th heaven's david gallagher as dorian.
the film was entertaining in its use of gilbert-+-george-like graphics, with 1980s neo-noir effects left over from less than zero + the hunger.
as narrative it was drained of blood + paced like a visconti film, but watching it made me think how thankless the role of dorian must be—a beautiful but vapid young man, whose corruption is untraceable in his face, but readily apparent in his portrait (in the latest version, a video installation created by a gay new york artist). there isn't a whole lot for the actor to do in this role, except for looking wan, bored, + up for some homosex or quasi-homosex.
a quick search through imdb reveals that gallagher is the (at least) 20th actor to take on the role on film + television, including five silent film versions, a number of other quirky films not based directly on wilde's story, a french hardcore porn vid, + even an american made-for-t.v. version, costarring anthony perkins, whose dorian is a woman).
yet another version of wilde's novel is listed on the database for 2007, something to be directed by jon cunningham. no hint, so far, as to who will play dorian next.
here then is my tribute to the dorians—those adored, amoral villains whose true selves remain locked away in closets until tragically smashed to pieces at story's end.
[the titles are all "the picture of dorian gray," unless otherwise noted in parentheses. other information in parentheses includes nationality of film or t.v. version]
1910 valdemar psilander (norwegian silent film version)
1913 wallace reid (u.s. silent film version)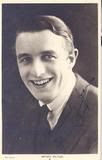 1916 henry victor (u.s. silent film version)
1917 bernd aldor (german silent film version)
1918 norbert dán (hungarian silent film version, with bela lugosi as henry wotton)--image unavailable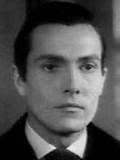 1945 hurd hatfield (u.s.)
1961 jeremy brett (u.k. t.v.)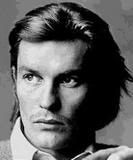 1970 helmut berger (dorian gray—u.k./u.s.)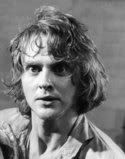 1973 shane briant (u.s. t.v.)
1974 richard kavanaugh (feasting with panthers—u.s. t.v.)--image unavailable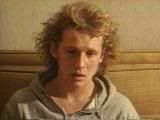 1976 peter firth (u.k. t.v.)
1977 patrice alexsandre (french)--image unavailable
1983 belinda bauer (the sins of dorian gray—u.s. tv)
1988 chris d'bray (testimony—european)--image unavailable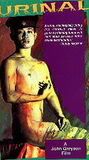 1988 lance eng (urinal—canadian)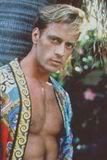 1998 rocco siffredi (erotic dorian gray—french)
2003 stuart townsend (the league of extraordinary gentlemen)
2004 josh duhamel (u.s.)
2005 matthew jaeger (dorian—u.s.)
2006 david gallagher (u.s.)
[the five films i saw at this year's festival were, from best to worst, the bubble (2006, dir. eytan fox), outing riley (2004, dir. pete jones), the picture of dorian gray (2006, dir. duncan roy), 2 minutes later (2007, dir. robert gordon), + back soon (2007, dir. rob williams).]