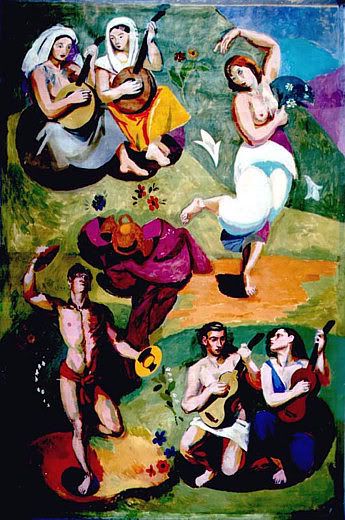 seguidilla, duncan grant, 1935
the painting no longer exists, except in this photograph.
in 1935, the cunard line commissioned duncan grant + vanessa bell to paint some panels to adorn their new ship, the rms queen mary.
after initially approving the design of this painting, cunard asked grant to reconsider his proportions, arguing that the size of the painting was inappropriate for its intended space.
grant balked, but then agreed to adjust the dimensions.
but cunard ultimately decided not to display this or the other paintings at all, on the grounds that the dignitaries + millionaires among its clientele would consider the paintings vulgar.
the shipping company paid grant + bell for the works, but refused to display them.
the painting is a visual representation of the spanish folk dance, the seguidilla, related to flamenco. grant uses vibrant color to represent visually the fast, intoxicating rhythm of seguidilla music.
to suggest the eroticism + passion of the music, grant uses a scantily clothed man + woman in poses suggesting the dance. the painting hardly emphasizes sexuality, but the sexual dimension, specifically homoeroticism, can hardly be overlooked.
a bare-breasted female dancer dominates the painting. the well-toned young man with cymbals + a bright red sash around his loins stretches seductively, below. four musicians, three female + one male, accompany them.
the guitarists in the lower right corner vaguely resemble grant + bell, both members of the bloomsbury group. grant's lovers included lytton strachey, his cousin, + maynard keynes. a romance blossomed with bell, virginia woolf's sister, + grant moved in with bell + her two sons. the couple had a daughter + remained together until bell's death in the early 1960s.
the two agreed to keep their relationship open. grant continued to sleep with men, but, for her part, bell apparently remained faithful to grant.
hardly a great or important painting, seguidilla retains some mystery because it is lost + because the figures' blank, passionless faces contrast oddly with the vitality of color + unmistakable hints of a woman-dominated world, with undertones of male objectification +, more subtly if at all, lesbianism.