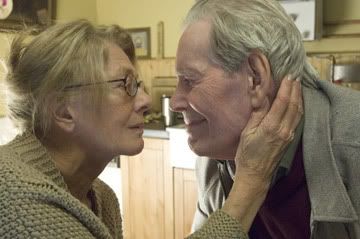 i'd be happy to make a small shrine to vanessa redgrave + peter o'toole in last year's venus, a film apparently designed as oscar bait for o'toole, but no less a genuine work of cinema.
to redgrave, a shrine for everything she's been in, in her entire career, even potboilers like mission impossible. at 70 she still is the most watchable actor i know of. for everything's she's been in + for every tiny moment, too, which, on screen, she fills with intensity + mindfulness, to steal a buddhist idea.
to o'toole, a shrine more specifically for his recitation of shakespeare's sonnet 18 ("shall i compare thee to a summer's day?"), which he quietly brings back to life about halfway through the film.
the entire movie is graceful, delicately scripted by hanif kureishi (my beautiful laundrette, the mother), directed by roger michell, making a career of small, aching stories about desire (notting hill, the mother, enduring love), but, still, admittedly, venus pushes fairly predictable buttons--i can't say anyone would find the ending a surprise.
on the way, though, individual scenes are less predictable:
o'toole + leslie phillips waltzing in front of memorial plaques for boris karloff, robert shaw, + laurence harvey at covent garden actors' church.
three old men sitting in a pub + sniping at each other over the newspaper obits section.
o'toole + redgrave's unexpectedly passionate kiss.
the already mentioned recitation of shakespeare, which, in o'toole's reading, becomes a living breath all its own.
jodie whittaker's ultimate apotheosis as venus, goddess of love + beauty.
the film venus portrays the tyranny of the one loved over the one loving, a theme proust knew well, as did nabokov, shakespeare, too, + one that's not yet exhausted its sad, comic loveliness.